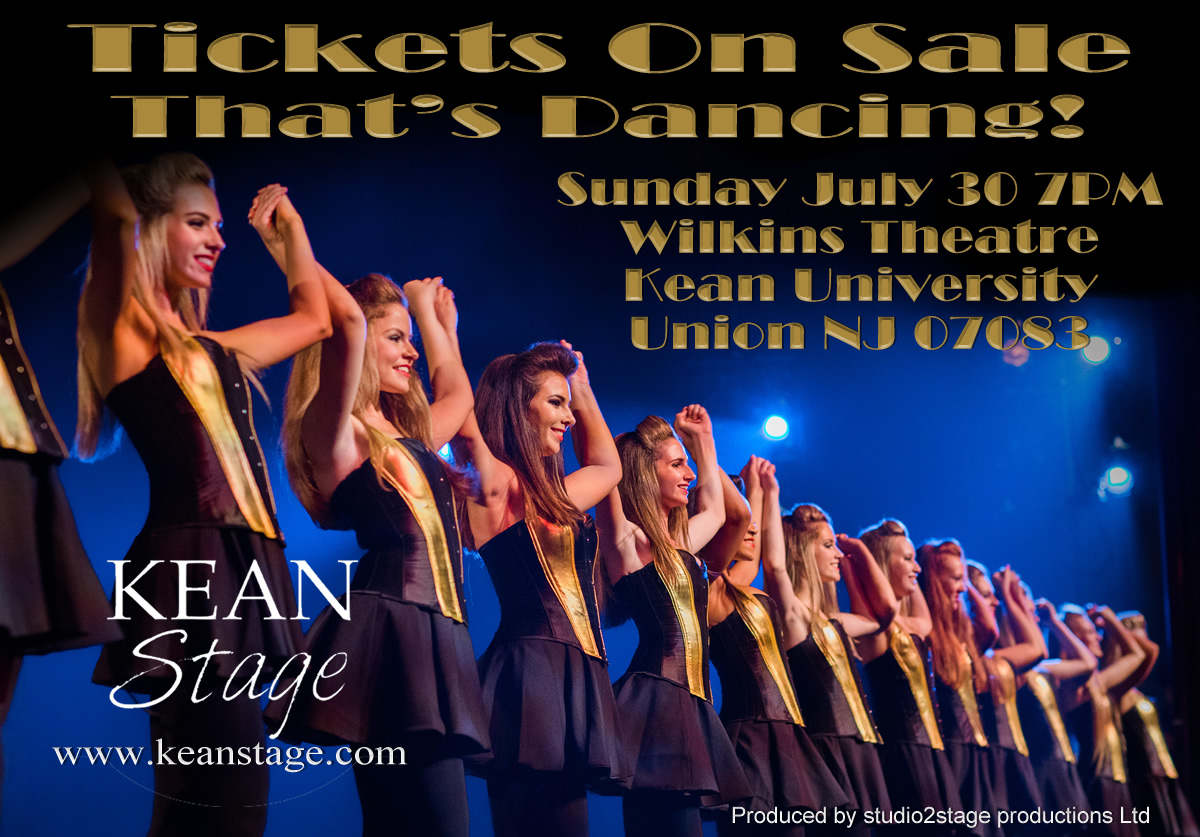 Tickets Now On Sale from the Box Office at www.keanstage.com/studio2stage
studio2stage The Irish Music and Dance Experience for Irish step dancers and musicians. This is the only opportunity for aspiring performers worldwide to be a part of a professional Irish music and dance show production and to experience what it's really like to work in a touring production. studio2stage includes two live performances on Sunday 30th July at Wilkins Theatre, Kean University, New Jersey and you could be on stage as part of the elite cast performing to the public.
Auditions Do you want to audition for studio2stage, Apply Here
Date studio2stage takes place from Saturday July 22nd to Sunday July 30th 2017 with two performances on Sunday 30th July at Wilkins Theatre, Kean University, New Jersey, USA.
Location Kean University, 100 Morris Avenue, Union, New Jersey, USA.
Dancers: All Irish dancers, age 15+ can to audition to join the cast of studio2stage and our team of professional choreographers to develop their show dancing skills and have first hand experience of what it's like to be a professional dancer on tour!
The studio2stage dance & choreography team
| | | |
| --- | --- | --- |
| Scott Doherty started Irish dancing at the age of six at the O'Shea-Chaplin Academy of Irish Dance in Boston, Massachusetts. Taught by the world renowned Rita ...read more | Zach Klingenberg was born and raised in Columbus, Ohio where he began dancing with the Richens/Timm Academy of Irish dance at the age of five. He spent ...read more | Miriam began dancing at the age of three with the Lee-Byrne Academy, Dublin. In competition, she has won many titles and from a young age Miriam performed ...read more |
| Aidan commenced dancing at the age of four with Scoil Rince Mona Ní Rodaigh where he travelled all over the world winning every major dance title including ...read more | Ciara Sexton is an internationally known Irish dancing professional who possesses multiple skills as a Lead Dancer, Choreographer, Lecturer ...read more | Rachel is from Dublin, Ireland. She began her dancing at the age of four with the Crean School. Throughout her competitive career, she won titles including eight ...read more |
Note for CLRG dancers and teachers: As agreed with An Coimisiún le Rincí Gaelacha; Dancers from CLRG schools taking part in studio2stage are NOT associated with each other.
Musicians: All musicians can audition to join the cast of studio2stage. We are privileged to have two of the finest musical directors in the world, Mr Anthony Davis and Mr Liam O'Sullivan (aka Anton&Sully) and they

will carefully select musicians from the audition process to be part of the studio2stage experience and will tutor

those selected musicians the full show score.
One Hundred Performers .... Nine Days .... One Show!
studio2stage brings together the very best non-professional musicians and dancers and turns their dreams into a reality! Our world class musical director and choreographers will work together to bring out the best in each and every performer to create a full scale live show production. Dancers and musicians will witness first hand, life as a professional performer, experience living away from home, making new friends, immersing yourself in nine days of intense rehearsals and watching a full scale show production come to life! You will also learn about stage production, choreography, line management, the role of a tour manager, the role of a dance captain, musical director, what to look for in your first touring contract and more! Acquiring a sound understanding of the business of performance is an absolute necessity for any modern day performer. This will be an opportunity for those musicians, singers and dancers to have an insight into the world of professional show performance. The knowledge and experience gained of the performance industry will allow you to focus more readily on what is important to you as a performer.